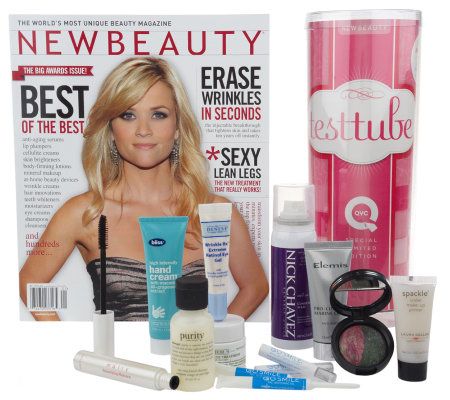 QVC has been testing out these NewBeauty TestTubes for the past few months, and I was lucky enough to try the first go-round. According to QVC, it "is a collection of some of the hottest and most in-demand products in beauty."
What Your Get:
current issue of NewBeauty magazine, along with a mix of full-sized, travel-sized, and deluxe-sized samples from Bliss, Mally, Nick Chavez, Elemis, Dr. Denese, Kiehl's, Laura Geller, philosophy, and GO SMiLE.
Price: $25-30
Grade: C
The good:
I was excited to be exposed to some products I've not tried/heard of before. I LOVED the Nick Chavez Conditioning Spray, Laura Geller
eyeshadow, Philosophy cleanser, and
Bliss hand lotion (
perfect
for purse/travel), I also liked how a few of the products were full-size.
The bad: Some of the products weren't good. For example, I found the GoSmile very difficult to use. The Mally mascara was very clumpy. I found the magazine, while containing info on each product, useless.
Would I Purchase Again?
Not this tube, but in the months since, QVC has really stepped up and added better products.