Today on Reader Request Week, we're featuring an inspired celeb hairstyle. It's so pretty and a fave of mine. The lovely
Jenny at Spry on the Wall
requested this beautiful hairstyle, worn by
Jessica Chastain
at the Oscars.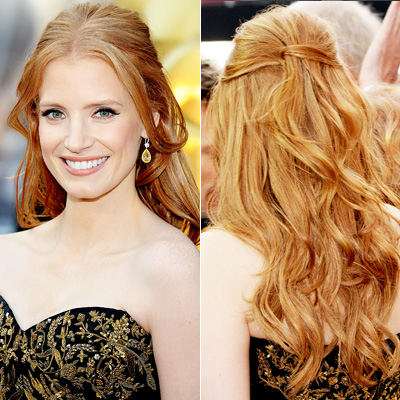 It's a classic, easy-to-achieve look. Let's get started:
T O O L S
:
2 inch curling iron
bobby pins
teasing comb/brush
hair spray
heat protectant
styling paste
M E T H O D:
Spray heat protectant on dry/damp hair and allow to dry.
Begin wrapping 1 in sections around the barrel and hold for 10 seconds.
Once curls have cooled, put your thumbs right above both ears and scoop up hair.
Using a teasing comb/brush, tease that section.
Separate pieces in the front, around the face.
Take a piece from the teased section and wrap it around the rest of the teased section, like in the photo. It's similar to a mini-French twist.
Pin it all back with bobby pins. I used 3.
Rub some styling paste in your hands and run it through curls--I would pick a few pieces to define them.
Spray down flyaways and pat down hair with hair spray.
Use a curling iron to curl the two pieces in the front, away from the face, if needed.
Me, trying to recreate Jessica's pose, but looking like a Glamour Shot instead!
Have a request you'd like to see? Let me know, below.