Please research the health hazards of using pallets before starting this project.
How relaxing does that pic above look? Le sigh. Ok, so mayyyyybe you can't go to the beach right this sec. What about a little retreat of your own? This pic and idea comes from
Houseandhome
(via apartment therapy). I love the colors, but make it to suit your style. Look at the branches and the old sheet for an instant awning. Cute. And even if you don't have a yard, don't let that stop you. I'll be recreating this on my balcony.
All you need are shipping crates/pallets (which I found free on craigslist and can be painted this soft blue or left au naturale), some sort of mattress or foam padding, comfy pillows, and a nice refreshing drink--
like this "A Day at the Beach" one
. It has coconut rum, orange juice, and grenadine. Did someone say coconut?
What else could we add to this summer retreat? Some romance with candles, that's what! I was on the awesome
Found in the Ali
blog and peeped these hanging lanterns (above) she made for $1.50!
She found everything she needed at the Dollar Tree--how cool is that? Take some jars, wrap them with twine, add sand and candles and hang or display on the table.
Feeling even more crafty? Make a fountain! I found this one at
instructables
but there are many more examples there. You'll need a container, water pump, water, and pebbles. Who doesn't love the sound of trickling water? I have an app on my phone that plays the sound of waves. Plus, I always record a lil video of the beach so I can be instantly reminded of that relaxing sound. Weird?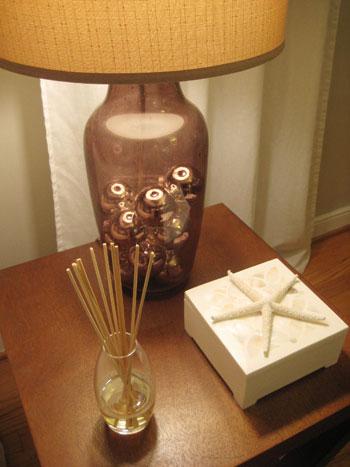 What else could we add? How about your own diffuser to further enhance the beach ambiance? I spotted this on one of my fave blogs:
Younghouselove
. They used some skewers, some dish soap (essential oil for me in coconut or orange), and a vase. Simple, cheap, and effective.
Now all that's needed is some imagination to pretend there's a view of the beach in front of you. My view is currently I-85's traffic, so I've got a lot of imagining to do!
What's your favorite way to create an instant oasis
?
All pictures and ideas are from the sites provided. Please click the links to visit these great sites!