Well, look who's back? Me! So let's talk--how have you been? I've been WONDERFUL. And I am SO ready for this year to end. So ready.
But first--the holidays! I can't go through the holidays (or really a week) without a red lip. Red lipsticks are my shopping weakness, y'all, so it was a given I had to try out
Fenty Beauty by Rihanna Stunna Lip Paint, available at Sephora.
Singer Rihanna's Fenty Beauty line has been flying off the shelves at Sephora. Have you tried it?
So yeah, I love a red, but why did I get this one?
Rihanna wanted a
universal red
, something that looked great on ALL skin tones.
She wanted something
feels light on the lips,
not an easy task for a matte lipstick, as most are drying.
She also wanted a
long-wearing lipstick
, and thus (side note: who uses "thus"? Me!) this fluid lip to matte was born.
$24
, Sephora (YES I think that's a ridiculous price)
Cruelty-free
Unscented
And what really piqued my interest? Rihanna said, "
I wanted a lipstick that wouldn't budge—even as you eat, even as you make out,"
I had to try it.
More on that in a minute! Let's get to the swatch:
So the consistency is liquid to matte. It doesn't take too long to dry. I did have some initial transfer, but not anything too drastic.
It's easy to wear and feels very light on the lips and not drying. I would say it's a true red, more like a traditional red. It is VERY VIVID on. You will definitely be noticed wearing this.
The application, to me, is not that easy. The applicator isn't too hard to work with, but the liquid consistency might make it difficult for the occasion red lip wearer.
Speaking of wearing, here it is on! I would highly recommend using a lip liner, which I did not use because I wanted you to see what it looks like without it.
BUT is it kiss-proof?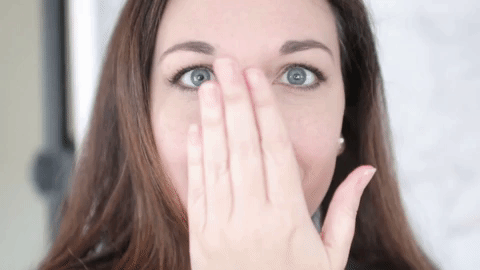 Um no.
Not even close.
Eating with it I had transfer too, but it really seemed to stay on and stain the lips. But it didn't last 12 hours as I'd heard.
Overall, it's a pretty red, I love the formula, and great for those who don't love a dry matte lip. Reviews online boast of it's kiss/eating/longlasting-ness of it, but I didn't encounter that. I'm glad I tried it though, but I still prefer my orange-reds.
Would you try this?
Have you tried anything from Rihanna's line?
PS: I'm featured TWICE on MSN--click here for
88 DIY Stocking Stuffers